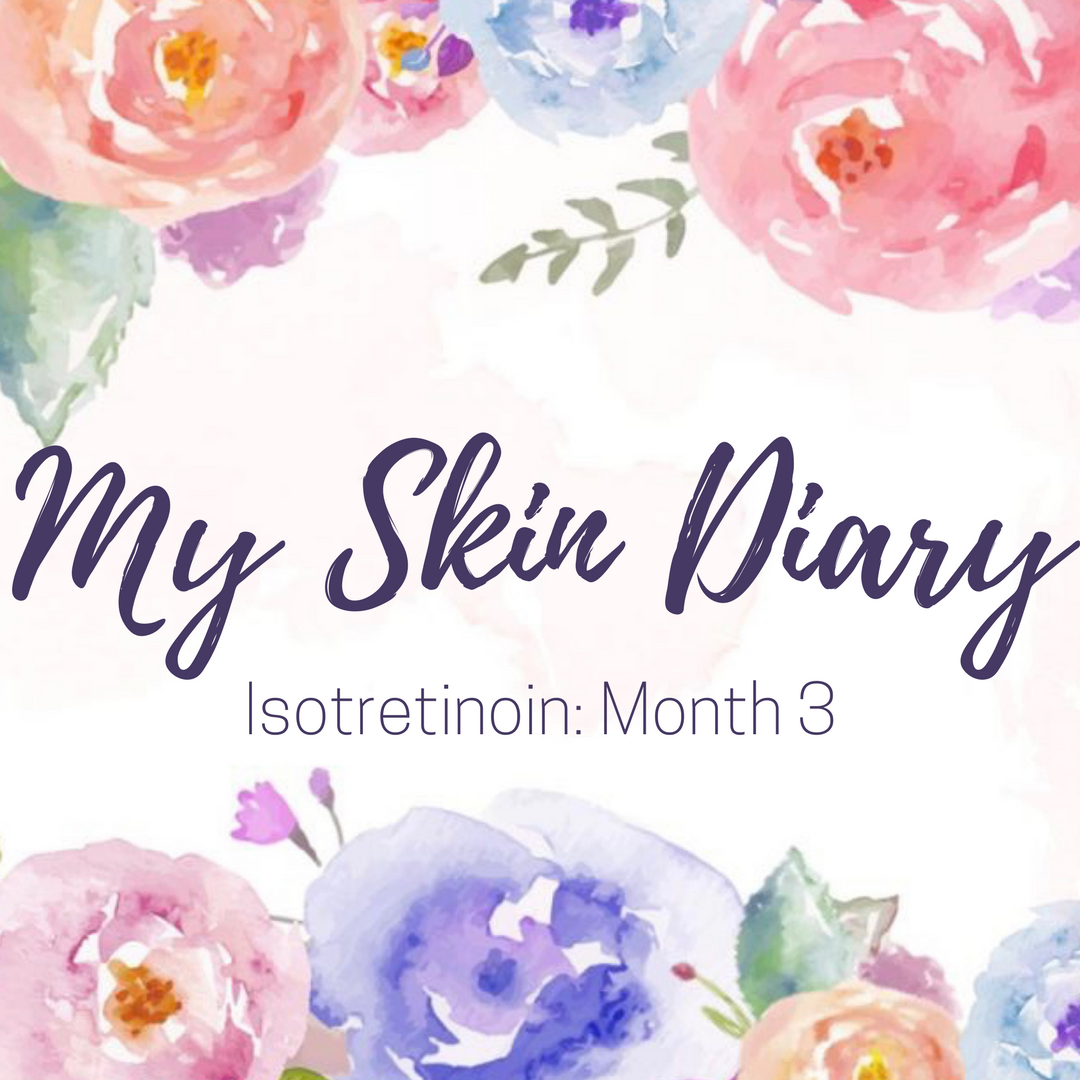 Favorite Moisturizers While On Isotretinoin
Normally, I would give an update on my isotretinoin journey with pictures and an updated skincare routine. However, I do not feel that I have had such a huge change this month. My skin care routine is pretty much the same. While my skin seems to be a little bit dryer, it's nothing unbearable. So, this month I decided to go over all of the best moisturizers that I have found, everything from head to toe.

I don't feel like my skin has made any huge improvements this month and I have not had any changes with symptoms or mood. Although that is great, it makes for some lame progress photos. Hopefully next month I will show some more progress. Without further adue, here is my favorite moisturizers while on isotretinoin.

These first products are ones that I use while in the shower. I am in love with the Sea Mineral Moisture Body Wash by OGX. Not only does it smell fresh, but it leaves my skin feeling so soft. I also love to use it as a bubble bath. Also, the scent does not irritate my sensitive skin or cause migraines. If you are not into scented products, I also love Cetaphil Body Wash. The other product I love to use in the shower is the Nivea In Shower Body Lotion for very dry skin. Basically, I use this after cleansing and shaving. Basically, it is like putting an oil on your skin. I will let it sit in while I condition my hair and exfoliate my face with the clarisonic. After that, you just rinse it off. The only note I have is make sure not to put it on the bottom of your feet and take care to rinse out your shower after you are done because it can make the floor slippery.

After the shower, I lather on a good body lotion. Right now, I am absolutely in love the the Hempz Herbal Body Moisturizer. I love how soft and smooth my skin feel after putting this on. In fact, I usually only have to put in on once a day. I also love all the wonderful scents that they offer. They are so fresh and natural. The best part is that the scents do not irritate my skin or set off my migraines like Bath and Body Works does. The only downside is that these can be a little expensive. However, I tend to pick them up when Ulta does their Buy 1 Get 1 Half off. I think they are worth it because they are high quality and last a long time. Right now my favorite scents are White Peach Rose & Peony, Velvet Cashmere & Tuberose and Sweet Pineapple & Honey Melon.

When it comes to cleansing my face, I am quite particular. For removing my makeup and double cleaning my face, I really like the Burt's Bees Cleaning Oil for normal to dry skin. While it might seem kinda expensive, a little goes a long way. You don't even need to use a full pump for your face. It melts off all of my makeup without leaving my skin feeling stripped. However, I do not like using it alone because the oil feels too heavy on my skin. So after I have rinse this off, I go in with the First Aid Beauty Pure Skin Face Cleanser. I love FAB products because they are so gentle on the skin. This cleanses without stripping and leaves my face feeling clean and soft. When my face is all clean, I like to exfoliate my lips. I have been really into the Hanalei Sugar Lip Scrub. A little goes a long way and the sugar is a great gentle exfoliator. After I have exfoliated my lips, I let the product sit for a little while as the oils help moisturize the lips.

I find the most relaxing thing is to put on a good face mask and relax with a cup of coffee and a book. In the past, I used a lot of face masks targeted at clearing my skin or shrinking my pores. So, it was a little strange to have to look for something that soothes and hydrates. My favorite sheet mask has to be the Tony Moly Tea Tree Skin Soothing Mask Sheet. As the ingredients are all in another language, I can't speak as to what is actually in this mask. What I can say is that it works every single time. If my skin is hurting or feeling extra dry, I will use this mask. I just put it on and let it sit till it is dry, usually about an hour. Afterwards my skin always feels soft and hydrated. Another great mask is the Lumene Hydration Recovery Aerating Gel Mask. This stuff is so cool! You only need a little bit and it goes on with a cooling effect. You can leave it on for 10 minutes for a quick session or even use it as an overnight treatment. I love exfoliating my face and then using this over night to keep my skin plush.

Before I apply moisturizers, I love to prep with a spray or an oil. Usually, when I first get out of the shower I will spray my face with the Mario Badescu Facial Spray. I feel like it not only helps to hydrate but also calms and cools my skin. It smells great and is very refreshing. Pro Tip: if you already have your hair done, spray twice into your hands and then pat into your skin so that is doesn't get sprayed all over your hair and clothes. Before putting on my moisturizer, I am all about a good oil. In the morning, I love to use the Farsali Rose Gold Elixir. Now I know, at $55 this stuff is expensive, but I have created an inexpensive DIY Version. Basically, it is Pumpkin Seed Oil. It sinks into the skin quickly and moisturizes without leaving a heavy feeling residue. This has been my savior for my dry under eyes. At night time, I like to use the Tarte Maracuja Oil. While this is another expensive one, it is a great quality and I have been using the travel sized one forever. This oil is a little heavier which makes it great for night time. It helps to keep my skin soft and I wake up feeling hydrated instead of dry and flakey.

After I have let any facial oils sink in, I will put on an moisturizer. For the day time, I like to use a gel moisturizer. Right now, I am really enjoying the Clinique Moisture Surge. I find that this moisturizer helps to give my skin that drink of water without being too heavy or oily. It is really great to use before putting on makeup. Another moisturizer that I love for day time that is not pictured is the Belif Aqua Bomb. This one is amazing! It is really perfect for days when I am feeling extra dry or sensitive. I love to use this after sun exposure or to help my skin heal after traveling. The only reason it isn't pictured is because I need a new one. Another gel moisturizer that I like to use if I have been in the sun is the Peter Thomas Roth Cucumber Gel Mask. Although it is technically a mask, I tend to use it as a moisturizer for days I do not put on make up. It just helps to calm my skin and hydrate it as well. Perfect for when it is a little burnt or irritated. At night, I almost exclusively use the Origins High-Potency Night-A-Mins. I have been using this for months now and I still love it. It is a thicker cream the works all night long. It is great to use when while my skin is so dry and it smells great too.

One of the things that has been driving me crazy is my lips. It is probably the one part of my body I cant seem to keep hydrated. That being said, I have three products that I have been using on a daily basis. Throughout the day, I generally use the Jack Black Intense Therapy Lip Balm. I like these because they have great ingredients, smell good and contain SPF 25. I really enjoy the Shea Butter and Mint ones. For the most part, these do the job. Whenever my lips crack or bleed, I use the Dr. Dan's CortiBalm. This works amazing at healing cracked lips because it contains hydrocortisone. The only reason I do not use this all the time is because I have heard that too much use of hydrocortisone can actually thin out the skin making it more prone to cracking. However, it is great at healing my lips quickly. The final product, not pictured, is aquaphor. This is a classic product that anyone on isotretinoin has heard of and used. It is great to use overnight because it is so thick.

The final products I want to talk about are makeup products. Now there are tons of products that are great for dry skin, but I wanted to keep this specifically to products that hydrate the skin. When I do my makeup, I always start with the Hard Candy Hydra-Prime Priming Lotion. I feel that it not only helps to keep my makeup on all day, but it keeps my skin looking hydrated as well. It also contains dimethicone, so it helps to smooth the skin and fill in pores. For foundation, I have been IN LOVE with the Tarte Empowered Hybrid Gel Foundation. I love the coverage and how a little goes a long way. The color is great and it keeps my skin looking hydrated and fresh all day long. The only thing I dislike is that it comes in a pot. You can check out a full review and wear test here. The final makeup product that I swear by in the Maybelline Instant Age Rewind Concealer. I have had the hardest time with dry under eyes. Using an oil has helped a lot but I have to be careful with which concealers I use. Like the Tarte Shape Tape leaves my eyes looking so dry. This stuff not only covers well, but it leaves my under eyes looking smooth and hydrated.
These products have all done wonders for my dry skin. I have to tell you, it was quite the struggle at first transiting from super oily skin to desert dry. Luckily, I have found a ton of products that work great and leave my skin feeling wonderful, even while taking isotretinoin.
What are products that you swear by for dry skin?
Xoxo Sammie