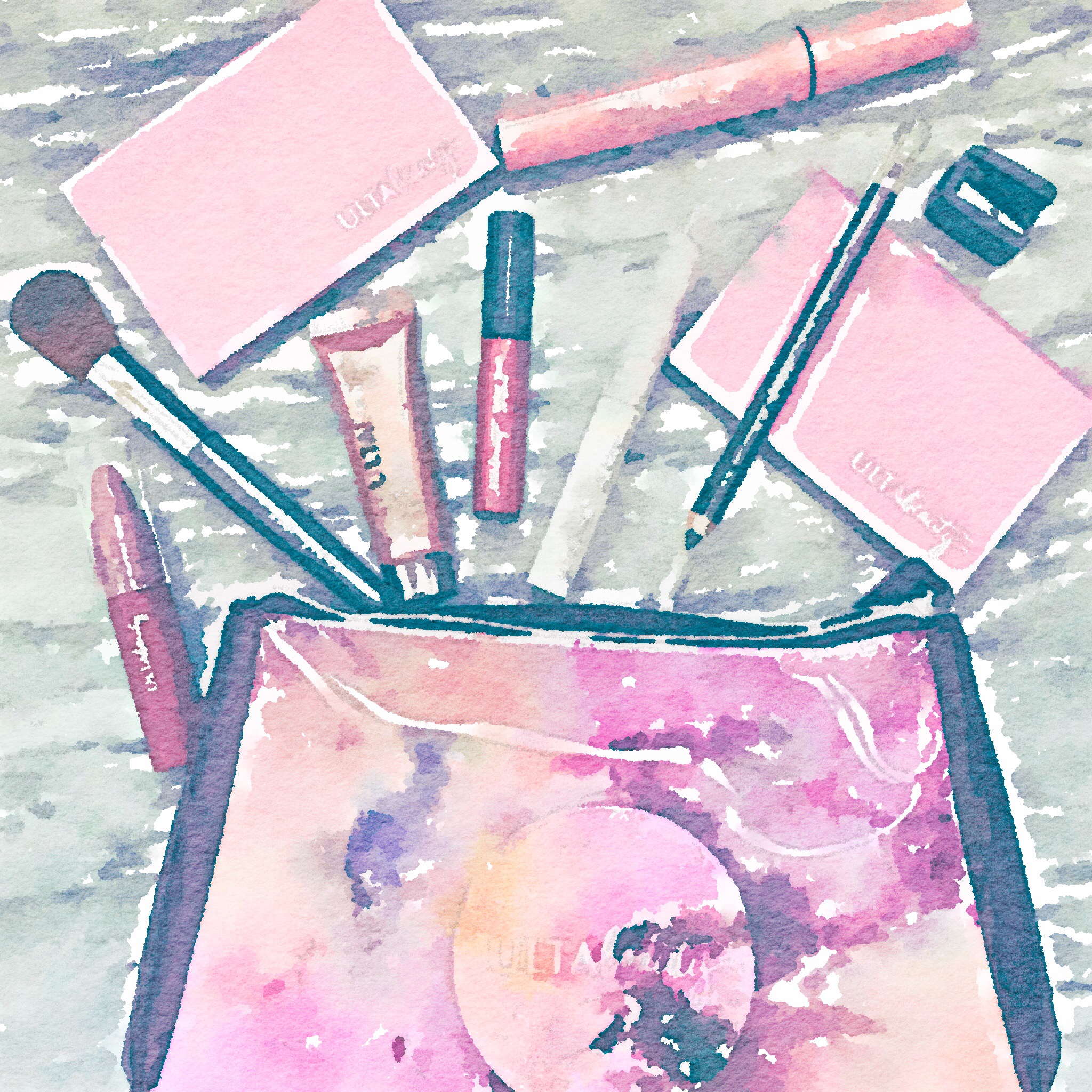 Ulta Beauty Cosmetics Part 2
I love shopping at Ulta. They are continuously adding more brands to their shelves and their rewards system is the best. I mean who doesn't want to earn money off of their next purchase just for buying things you were going to get anyway? What a lot of people do not realize is that Ulta has their own in house brand. It ranges from makeup and skincare to hair and body products. I recently received a bunch of these products as a gift with purchase. I figured, why not make a part two to my Ulta Beauty review. You can check out part one here.

With my recent Ulta Beauty purchase, I received an eyeshadow primer, eyeshadow palette, eyeliner, mascara, face palette, lip primer, matte lip crayon and a lip gloss. Along with the makeup there was also a compact mirror, pencil sharpener and blush brush. All of these products came in a pretty purple watercolor makeup bag.

In my first Ulta Beauty Haul, we received a matte tinted primer. I loved it and still use it daily. In this bag we received the Tinted Eye Primer in Satin Blush. The tube is full sized and has a ton of product. The primer is a pink shimmer. The color is so pretty, but I would use it as a lid color or base for another pink shade. You wouldn't be able to use this as a primer over your entire eye unless you want to look like you have pink eye.

The eyeshadow palette contains four matte shades and two shimmer. I was impressed with all of the shades, though the mattes were a little dry to the touch. The mattes included were Plum Pop, Desire, Say What and Buzzword. For the price, these blend much better than a lot of drugstore shadows. The shimmers, Sunshine and Fearless, are very pigmented and creamy. I used Say What to set my primer, Buzzword in the crease, Plum Pop on the outer corner with Fearless on the lid and Sunshine on the inner corner. I love the look as it reminded me of a sunset.

We received a pencil eye liner that is double sided. On one end is a liner in Blackout and the other end is in Plum. I am not a fan of these liners. I think they they are too stiff and not pigmented enough. That being said, I really enjoy the Ulta Beauty Gel Liners.

The final eye product is the Ulta Beauty Maximum Lashes Mascara. This mascara claims to be defining and lengthening. I already have fairly long lashes, but this product impressed me. It really helped to lengthen and define my lashes without being too wet or clumpy. It was also very black.

Along with the eyeshadow palette, there was a face palette that included a translucent powder, bronzer and highlight. The Ulta Finishing Powder in Translucent is great. I haven't used setting powder in a while because it has been too drying. However, this one sets my concealer without making my under eyes super dry. As for the bronzer, I usually prefer something cool toned. But, I do like the Ulta Matte Bronzer in Warm. It isn't too orange and it blends really well. The only product I did not like in this palette is the highlighter. The Ulta Illuminator in Radiant Diamond was just too stiff and chunky for me. It was also subtle and accentuated texture. However, it can be pretty as an eyeshadow when built up and applied with a damp flat brush.

The Ulta Lip Primer claims to enhance the color of any lip product. I thought that it would act as a concealer on the lips, but it applied clear. I am not sure that it enhanced the color of my lipstick, but it was very hydrating and helped the product to go on smooth.

The final two products were both for the lips. The first is the Ulta Matte Lip Crayon in Soiree. The color is very pretty and the formula is pigmented and smooth. I found it to be comfortable to wear, but not long wearing. It is also hard to apply because the tip is so fat. Also included was the Color Rush Lip Gloss in Olivia. This gloss is so pretty, smooth and pigmented. It feels hydrating and looks great on the lips. I would recommend wearing this over a lip liner to keep it from feathering.

Overall, Ulta continues to surprise me. A lot of their product I have tried, I have really liked. Their eye shadows have proven blendable and pigmented while the lip products are comfortable and smooth. I am excited to see what this brand will come out with next. I have my fingers crossed for a Stila Magnificent Metals dupe.
Have you tried anything from Ulta Beauty?
Xoxo Sammie