Top 20 Products to Control Oil and Hide Blemishes
I remember all throughout high school, I had fairly good skin. I felt comfortable with using a light mineral powder foundation and rarely broke out. Fast forward 6 years and I have the skin of a teenager. It's gotten to the point where I've been considering starting Accutaine (more on that later).
Although my skin has been driving me crazy, I've nailed down a bunch of products to help conceal my acne and control my oils. So here it is, my Top 20 Products to Control Oil and Hide Blemishes.

Just as a disclaimer, these are all products that have worked for me personally. Remember makeup and skincare are very personal items and may work differently for everyone.
So I'm going to start my list with how I apply everything. So first step would be skin care.
These 4 items have worked miraculously for me.
1) Bosica Detoxifying Black Cleanser: this works great for detoxing my skin. I find that it really helps keep my oils and breakouts at bay without overly drying my skin.
2) Clarisonic Mia Fit: now this little brush is expensive and honestly I never considered buying one until I found a promo code. That being said, it had made such a difference. It has really helped clean out my pores and minimize the texture on my cheeks and forehead. I would discuss with a dermatologist first if you are unsure just because this may not be great for all skin types. I also prefer to use this every other day or any day that I wear makeup.
3) Boscia Deep Pore Exfoliating Peel: this is a newer product to me, but it has quickly become a staple in my beauty routine. It is a chemical peel and exfoliant and it works miracles! I only use it once or twice a week and it leaves my skin so soft and smooth. I especially like doing this the night before a special event. Just make sure not to use the clarisonic or other exfoliant the same day.
4) Neutrogena Hydroboost Water Gel: so I actually use this, the eye gel and the one for extra dry skin. I love this because it moisturizes my skin without making it oily or shiny. It's also light enough to wear under makeup. I like to use the water gel in the morning and the one for extra dry skin at night.
Next we have primers:
5) ELF Blemish Control Primer: I like to use this primer on the perimeter of my face where I break out the most. I find that is just helps to control my breakouts when wearing makeup. It is not 100% necessary, but I find that it helps my skin.
6) Rimmel Stay Matte: this is the primer that I use on the majority of my face. I find it is one of the best at controlling my oils throughout the day. I apply this over my forehead, nose and chin. It keeps my skin matte and also helps my makeup to stay all day.
7) Smashbox Photo Finish Pore Minimizing Primer: for me, this primer is a must. I use it mostly on my nose and cheek area to help fill and minimize large pores. It works best for pores if you press it in instead of rubbing it in. I also like to use this on dry patches or blemishes to help smooth them out before applying foundation. Just make sure to use sparingly as a little goes a long way.
8) L'Oréal Infallible Color Correcting Kit: this is my final step before foundation. Again, it may not be necessary for everyone but I find it helps immensely when it comes to concealing breakouts. I use the green color and apply to where ever I have breakouts or redness. The biggest thing it to make sure you blend it well. It does not take a lot to really even out your skin tone.
Next, I apply foundation and concealer.

9) Artis Oval 7: I know that this is a brush and not a product, but it has done miracles for my foundation game. This brush helps me to achieve the most full coverage look with a lot of my foundations. It really helps cover up my blemishes the most without making my makeup look cakey.
10) Kat Von D Lock-It Foundation: this stuff is amazing! It is full coverage to the max. I love using this for special occasions or when I will be taking pictures. The only downside it that it can look cakey if not applied properly. For best application, I recommend using either an Artis brush or a beauty sponge.
11) It Cosmetics Confidence in a Compact: I like this foundation for everyday where. It feels light on the skin and has buildable coverage. The best part is that this product has high SPF, skin benefits and doesn't get overly oily throughout the day. Check out my full review here.
12) Tarte Shape Tape Concealer: after apply my foundation, I go back and spot conceal. This particular product is highly pigmented. Most of the beauty gurus like to use this under their eyes. While it is great for that, I really like to use it to further conceal blemishes.
After foundation and concealer, I would apply powders unless I am using a liquid highlighter. I find liquid highlighters do not emphasis texture as much as powers. My favorite liquid highlights are: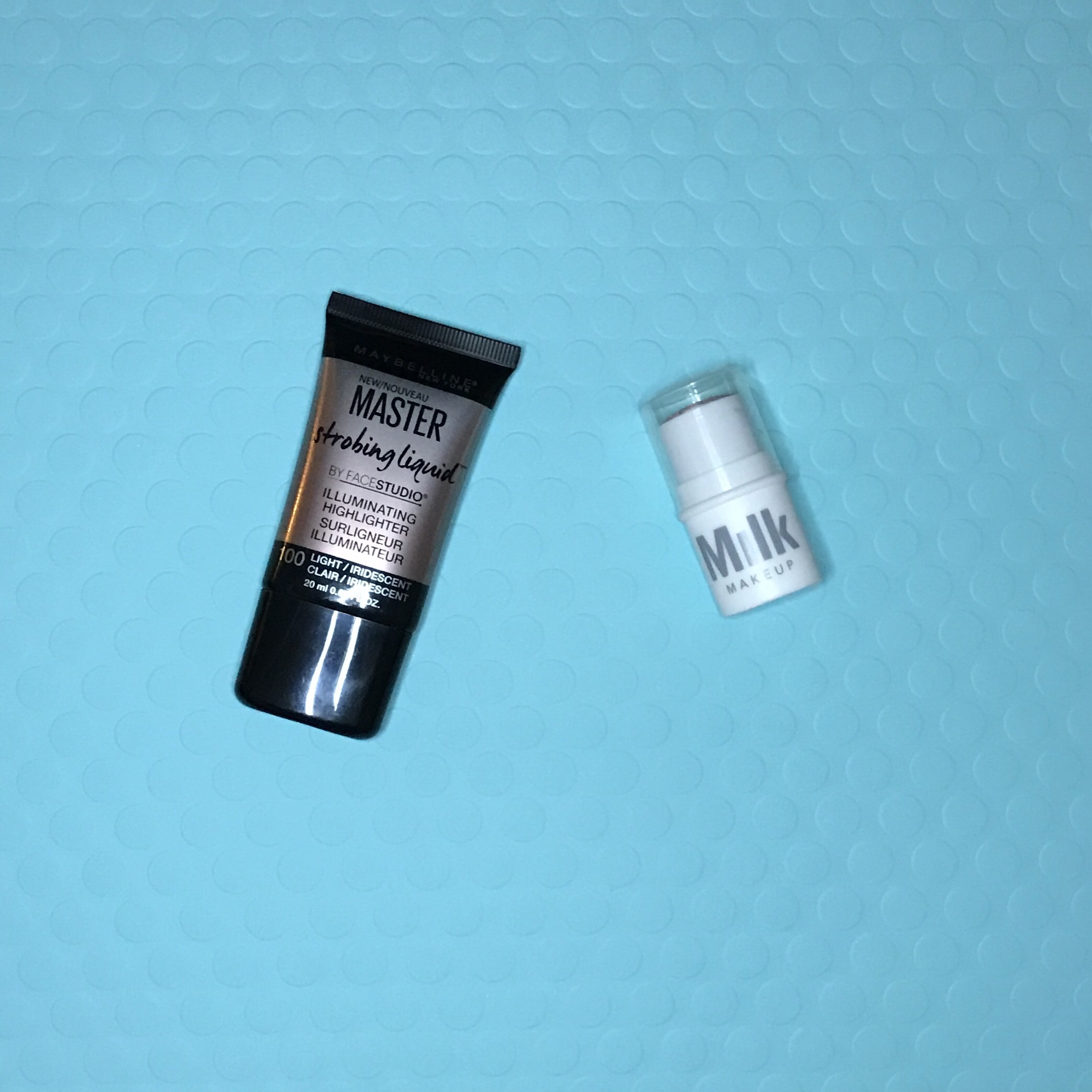 13) Maybelline Master Strobing Liquid: when I have a lot of texture on my skin, I prefer liquid highlights. I love this one because it is so strong, but beautiful. It looks great under powder or foundation and blends beautifully.
14) Milk Makeup Highlighter: this is similar to the Maybelline highlighter, except it is in a stick form. I like this one for a more natural highlight as it is not as metallic as the Maybelline. The best way to apply is to take some on your fingers and blend in.
After using my liquid highlight, I start applying my powder products.
15) Covergirl Outlast Finishing Powder: this is one of my favorite powers to use. I like to use the buffing technique with this powder. It sets all of my makeup, adds a little more coverage and helps mattify and control oils.
16) Kat Von D Lock-It Powder: I like to use this powder to set my whole face. I think it works best with a big, fluffy powder brush. It is also great for baking under the eyes. It helps to lock in my makeup all day.
17) Wet n Wild Photo Focus Pressed Powder: although this is a foundation face powder, I like to use the shade Cocoa as a bronzer. I really like this powder because it does not emphasize any of the texture I have.
18) Tony Moly Cats Wink Powder: this powder is great to carry in your purse. It is similar to a blotting powder so it can be used throughout the day. My favorite way to apply is to first use blotting papers or a paper towel to get rid of excess oils. Then, I use either the included puff applicator or a powder brush to apply to my oily areas. It helps to remattify my face and keep the oil at bay throughout the day.
My final step is to seal my makeup in with a good setting spray.
19) Makeup Revolution Oil Control Fixing Spray: this is my favorite spray. It is perfect for people who prefer a more matte finish. It sets in my makeup and helps to further control my oils. I like using this spray when I am going to have a busy day and be running around a lot.
20) Milani Make It Last Setting Spray: this spray is perfect for people who want a more natural finish. It is not overly dewy and does not make me look shiny; it just does not mattify the skin. What it does do is help all my makeup to melt into my skin and to get rid any powderiness I may have. I prefer using this if I am going to be inside all day.
So that's it, my top 20 products to help control oil and hide blemishes. I hope you find this helpful!
Do you any products that you swear by? Leave them in the comments below!
Have a great weekend!
Sammie