6 Tips for Surviving Long Distance Relationships
We all know the saying "distance makes the heart grow fonder." Personally, I really dislike that saying because it makes it sound like having a long distance relationship is easy. The reality of it is that being in a long distance relationship is hard; like really, really hard. It takes a lot of trust and confidence to make it through.
My husband and I started dating in November of 2014. By April of 2015, we were already living together and engaged soon after. Everything seemed like a fairytale. That is until the summer came. That summer, he took an internship several states away and was going to be gone 3.5 months. I knew I loved him, supported him and that this was what was going to be best for our future, but truly I was terrified.
Before I met Mike, I hadn't been in the best of relationships. In the end, these relationships left me feeling very insecure in myself which translated to me feeling insecure in the relationships the followed. I use to worry all the time about whether a guy I was seeing was really into me or if they would leave me for someone else. Luckily with my husband, I was able to become more confident in myself which lead to us having a very healthy, trusting relationship.
Now, my husband and I have made it through two internships of his and two internships of my own. All total, we have probably spent about 11 months apart during our 4 year relationship. By now, we have figured out the best ways to stay connected and make a long distance relationship work even when we don't see each other for months at a time.
It may seem silly to say, but the real key to surviving any type of long distance relationship is trust. If you cannot trust your partner, believe me when I say, it will probably not work. Now that I've gotten that out of the way, here are some of the ways we have found to connect and keep our relationship healthy while at a distance.
1. Calls- this one is a little obvious, but it is one of the best ways to stay connected. At first, we made an effort to call each other every night. Eventually, we both felt comfortable enough that we were okay if we didn't get to talk for one night. Sometimes, even just a quick 5 minute call to say good night was enough. Beyond just calling, video chatting is another wonderful tool. Sometimes it is nice to be able to see your partner in real time.
2. Snapchat- I get it, this is such a millennial thing. Maybe it is, but it is also an amazing tool to make long distance not seem so long. Basically the same idea as frequent phone calls, except Snapchats are shorter and easier send. This way you can send each other little notes or videos as you go through your day. Plus it can be fun to send texts or pictures you may not want to stick around forever.
3. Letters- You're probably thinking, "who writes letters anymore?" Trust me, letters are an oldie but a goodie. You have two different choices here. You and your partner can send letters back and forth, but this can lead to disappointment if one person gets distracted and forgets to return a letter. My personal favorite idea is pre-writing letters. During his first internship, I wrote my husband letters for each day he was gone. Some included pictures and memories, others quotes or links to a special song. It was fun for him to open a new letter each day and it gave us something to talk about in the evening too. I admit, this idea took a lot of time and pre-planning on my part.
4. Love Book- Before his second internship, I found a book at my local Barnes and Noble. It was a love letter book and each page had fun fill in the blanks. Not only was it really fun for me to fill out, but he loved reading it whenever he missed me. Now it is a fun keepsake that we take out to read occasionally and one day I think it will be something fun to share with our kids.
5. Small Tokens- When I went to drop my husband off at the airport, before he got out of the car, he gave me a small gift. It was a set of matching key chains; one was a heart and the other a key. He gave me the key and he kept the heart because he says I own the key to his heart. The key chains themselves were very inexpensive but the sentiment meant so much to me. Every time I looked at my keys, I thought about him.
6. Plan a Trip- I know, I know, planning a trip can be expensive. However if you can make it work financially, it is the best! For both of his internships, I planned a trip to visit him when he was about 3/4 of the way finished. Each time I went and stayed for about 4 days and they were amazing. It not only gave us time together but allowed us to explore new cities. Plus, making plans for the future gives you something to look forward to.
These are just some of the things we have done that have helped to ease the pains that come with being in a long distance relationship. Not being with you partner is rough, and no matter what anyone says, it is never easy. As long as you are confident in your relationship and yourself, you can make it work.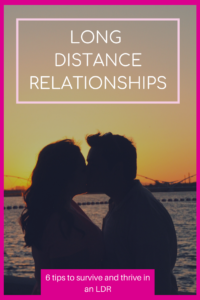 Are you in an long distance relationship? What tips do you have?