I am part of a really cool group on Facebook called Boxycharm Beauties. Here, you can buy, sell and trade items you receive in your box. But, the best part has to be that the CEO is a member of the group and frequently gives us sneak peaks. So, when I heard that we would be getting a palette from Tarte, I was so excited!

If you are unfamiliar with Boxycharm, it is a monthly suscriptiom box. You pay $21 a month and receive at least 5 full sized beauty products. This month I received:  falsies, gel eye liner, face paint, 3 brush set and an eyeshadow palette.

The first thing that everyone received is a pair of false eyelashes from PÜR. There were two different styles that you could receive. I received the style Diva and they retail for $14. I personally do not wear false eyelashes but will be saving these to put into a future giveaway.

The next product everyone received was a set of three Pro makeup brushes from Royal and Langenickle. These brushes are so nice! They have a good weight to them and they are comfortable to hold. They are also super soft. The crease brush is fantastic because it comes to a nice point for more precise application. The tapered blush brush is also great for contour. The only brush I wasn't a fan of was the chisel brush, though it could be good for undereye concealer or baking. You can find more information on the brushes here, they will be released for sale this fall.

The final universally received product is the Rainforest of the Sea Volume 2 palette by Tarte. This eyeshadow palette comes in a beautiful compact with mirror and retails for $36.

This is a really great everyday palette. It has 3 shimmer shades and the rest are satin mattes. They claim that you don't need primer or a brush with this palette and I find that to be true. The formula is really fantastic. While you can use your finger for application, I prefer a brush if I want to have a more precise application.

Now is where the products can differ from box to box. I was needing a new black liner, so I was excited when I received the Waterproof Gel Eyeliner by Bellapierre which retails for $15. It came to a very fine point which turned out to not be a great thing as it was too sharp to use on my waterline. After I wore it down a bit, it worked better. However, I'm still not a fan. It is not black enough and it tugs when you use it. I don't foresee myself using this much in the future.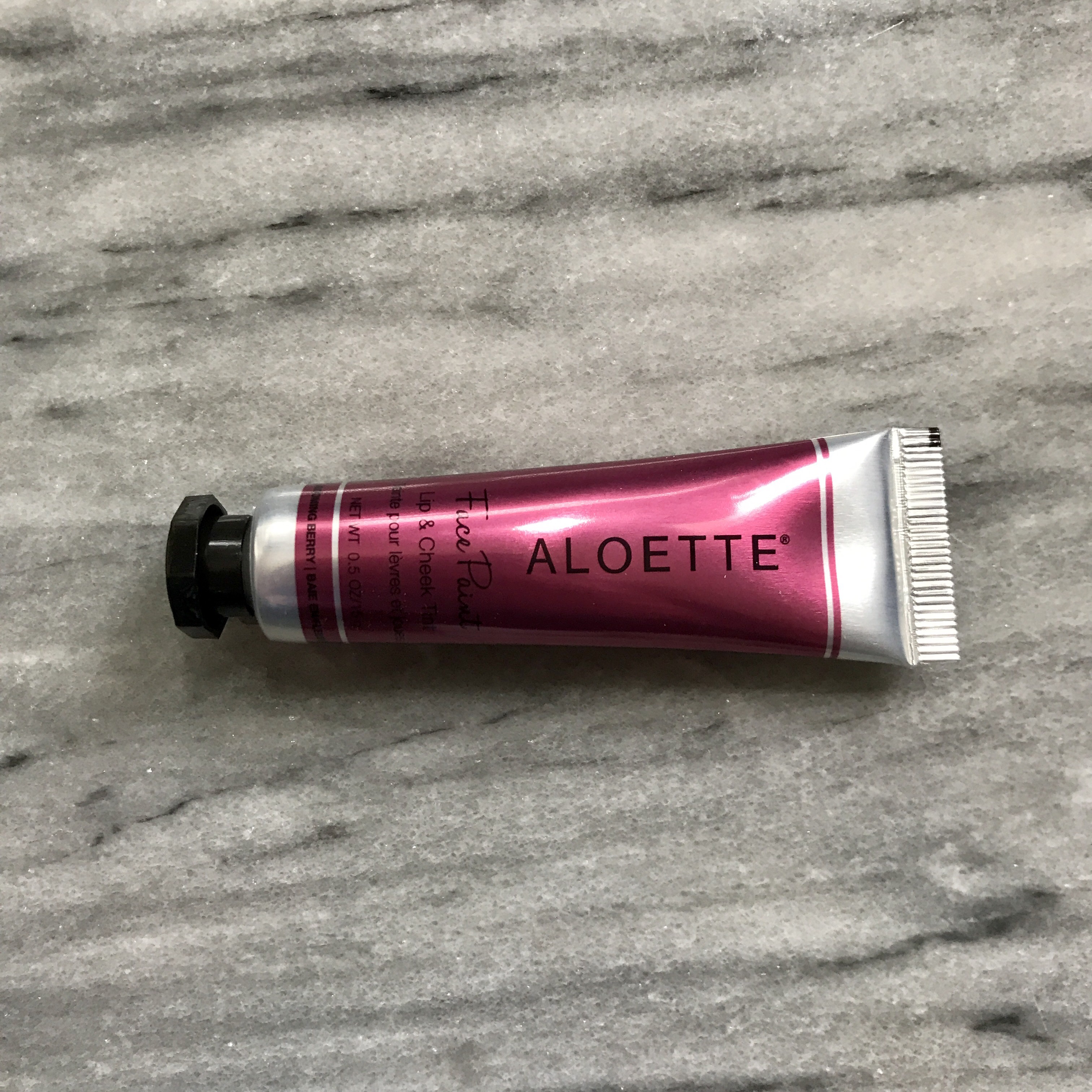 The final product I received is the Aloette Face Paint in Pink a Boo which retails for $35. This cream pigment is great for cheeks and lips. The color is buildable and you only need the tiniest bit. I really like this for a sheer wash of color and for every day looks.

Here is a picture of me wearing all of the products. This month's box was really great! I loved all of the products with the exception of the eyeliner and chisel brush. I've seen some spoilers for the rest of the year, and they are going to be awesome. If you aren't signed up yet, I highly suggest you do it soon.
What were your go to products this month?
Xoxo Sammie