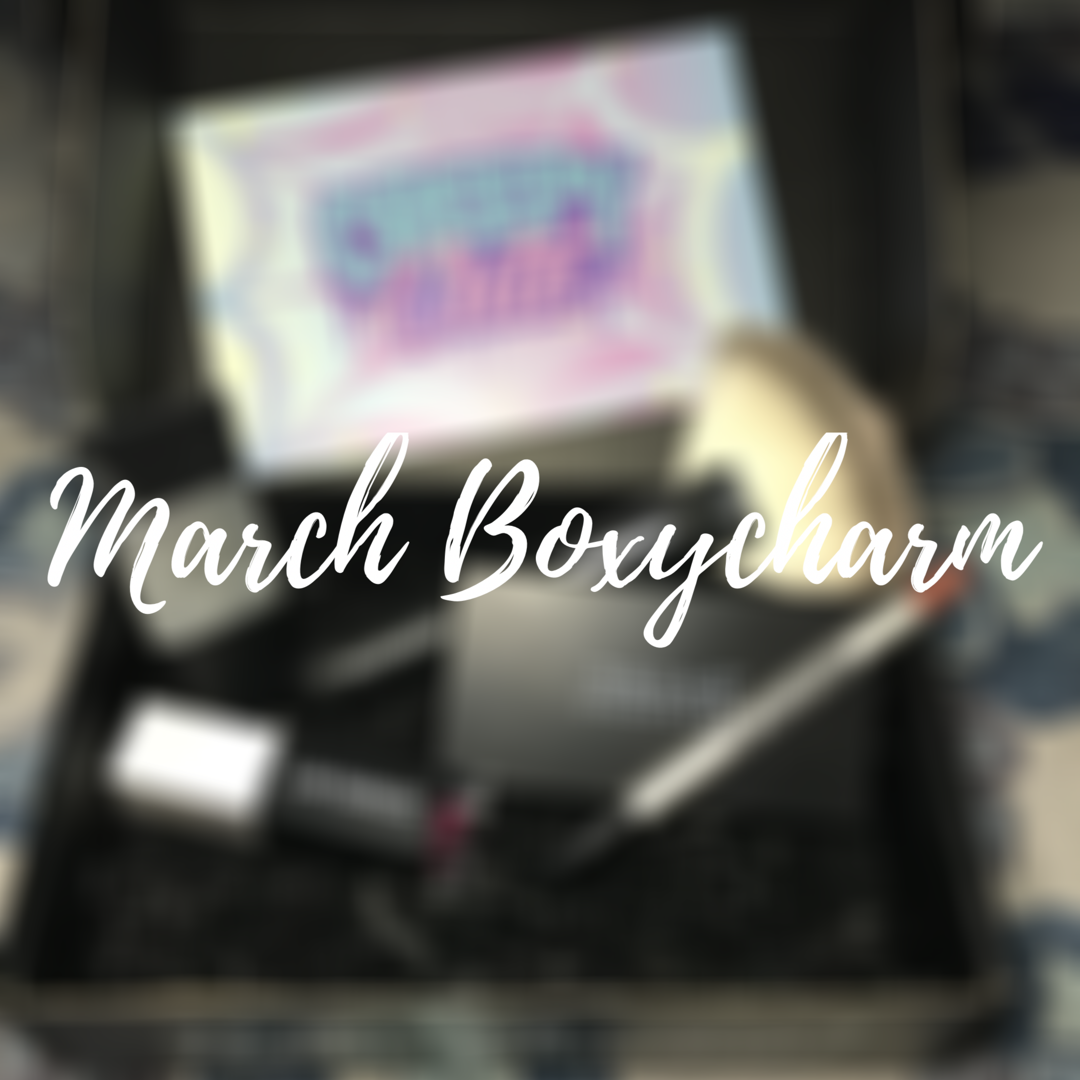 For those who are unfamiliar, Boxycharm is a makeup monthly subscription box. For just $21 a month, you get 5 full sized products to play with. It's a great way to experiment with new brands and products you may not normal purchase, all for a fraction of the retail price. The boxes usually ship out between the 5th and the 13th of each month. However, they were quite delayed this month due to the winter storms. But it's finally here!

So I'm just going to go item to item and give you a little mini review.

The first item in this month's box is the Photo Finish Primer ($16) by Smashbox. I have never tried this product, but it is a cult favorite. At first, it had a strange texture, kind of slippy. However, it sunk into my skin and helped my foundation to glide on. It claims to blur fine lines and pores, and I definitely think it delivered on that.

The next product is the Urban Rustic Palette ($40) by Naked Cosmetics. This is a trio of shimmer shadows in purple, orange and green. Though I wouldn't use all three colors together, they are stunning! I really love using the green or orange all over my lid. The purple is stunning on the outer corner or on the lid with a highlight shade in the middle. The only downside is there is a lot of fallout, so I would apply these before foundation. Also, for a beautiful metallic look, apply wet.

The third product is the SS023 Deluxe Fan Brush ($19) by Crown Brush. I always love getting brushes in subscription boxes because I rarely buy them myself. This brush is super soft and very pretty. I would not use this for highlight unless you want an all over glow. My favorite way to use this brush is to contour. I get the pretty contour without being too dark or too harsh. Really, its a great addition to my brush collection.

The final two products are lip products from RealHer. The first is a lip liner in I Am Unstoppable ($12.50). It is a beautiful peachy nude color. I really enjoyed the formula. It glides on smoothly and is very comfortable to wear. It is also fairly long lasting. I has the swatch on my hand, got in the shower, and when I got out it was still there! My favorite way to wear this is to fill in my lips and top with a similarly colored gloss.

The final product from RealHer is their Matte Liquid Lipstick ($15) in I Am Fearless. The formula is very light weight and feels like very oily. It dries down very quickly and the color that I got was a beautiful berry shade. However, I found this formula to be too drying for me. Also, this particular color really stains. I don't think I will be trying this product again, but I did enjoy the packaging.

Even though this month's box arrived late, I really enjoyed it! Overall, I liked 4 out of the five products. That means, for me, this box has a total value of $87.48! Not too bad what to whole box was only $21.
Have you tried any of these products before?
Happy Friday!
Sammie