Its that time again; time for Boxycharm! I didn't write a post for last month's because there was another mishap with my shipping address and I ended up receiving it rather late. That being said, as soon as I saw the sneak peaks for this month I was so excited!
If you are unfamiliar with Boxycharm, it is a cosmetics subscription box that costs $21 per month. Each month you will receive at least 5 full sized products. Recently, they have been including things like eye shadow pallets and even a full sized Becca highlighter!
One of the more unconventional items in this month's box were the three Collagen Infused Lip Masks from KNC Beauty. Basically, they are like a sheet mask but for your lips. When you first open the package they look like a pink jelly and feel somewhat slimy. You just put the mask over your lips and let it sit for 15-20 minutes. They are said to condition, moisturize, plump and hydrate and it is recommended to use one 2-3 times a week. I will say, that my lips felt hydrated immediately after use but I did not find it to plump or have lasting effects. These are fun to use, but I would not repurchase at $5 a pop.
Next was the Luxie Beauty Quad Eye Travel Set. These are said to retail for $32 but they are not currently available on the Luxie website. Normally, I really love Luxie brushes. They are soft and blend products well. However, I was not a huge fan of these travel brushes. I felt that they just did not blend well and found myself reaching for my Spectrum brushes instead. Unfortunately, I would say these are a pass for me.
Boxycharm has been on top of the eyeshadow pallete game recently. In this month's box, we received the Winkylux Kitten Palette that retails for $25. There are 9 different shadows in what the website claims are four finishes: "holographic, matte, satin and glitter."
Personally, I would say Duchess, Strut, Cheshire and Boots are mattes; Purr, Cateye and Romeo are all shimmers; and Holographic and 9 Lives are both duochrome.
For this look, I ended up using Duchess as my base with Strut all over my crease. Then I went in with Cheshire a little lower in the crease and on the outer corner. I took a damp, flat brush as used Romeo all over the lid. On the lower lashline, I went in with a little Strut and Cheshire. Finally, I used Purr as my inner corner and brow bone highlight.
Overall, I really enjoy this palette. I think it is great to travel with and includes a lot of really fun colors. I only wish it had a mirror.
Next we have LAQ A&Co Cloud Lips in Sunshower. On the brand website these are described as, "Surprisingly fluffy, Cloud Lips Airy Matte Lipstick delivers full coverage color for a pillow-soft pout. Available in 4 high-pigment shades, these lipsticks were formulated to last all day without feeling stiff thanks to avocado oil" and they retail for $17. Honestly, I really like the formula. The color was vibrant and the formula was light weight. The only thing I did not like was the tube it came in. For such a bright, bold color it was hard to achieve a precise application. I ended up having to go in with a lip brush. While I really like the product, it is just not practical for me as I would have to reapply throughout the day.
The final product was probably the one I was most excited for; the Cover FX Illuminating Setting Spray. These retail for $31 a bottle and is said to "provide instant illumination while giving your makeup serious staying power." I have always used setting sprays, but even more now that my skin is more dry. I rely on them to keep my makeup from looking dry and cakey. First, that packaging on this is a beautiful white/pink iridescent. Also, the spray nozzle and mist is AMAZING! It is so fine and beautiful. The illuminating part of the spray comes from very fine glitter particles. I didn't mind them except for how they looked on my eyebrows. I really like this product. I just recommend to shake VERY WELL before using so that you don't have large deposits of glitter on your face and make sure to use one had to cover your eyes and brows so they they do not end up glittery.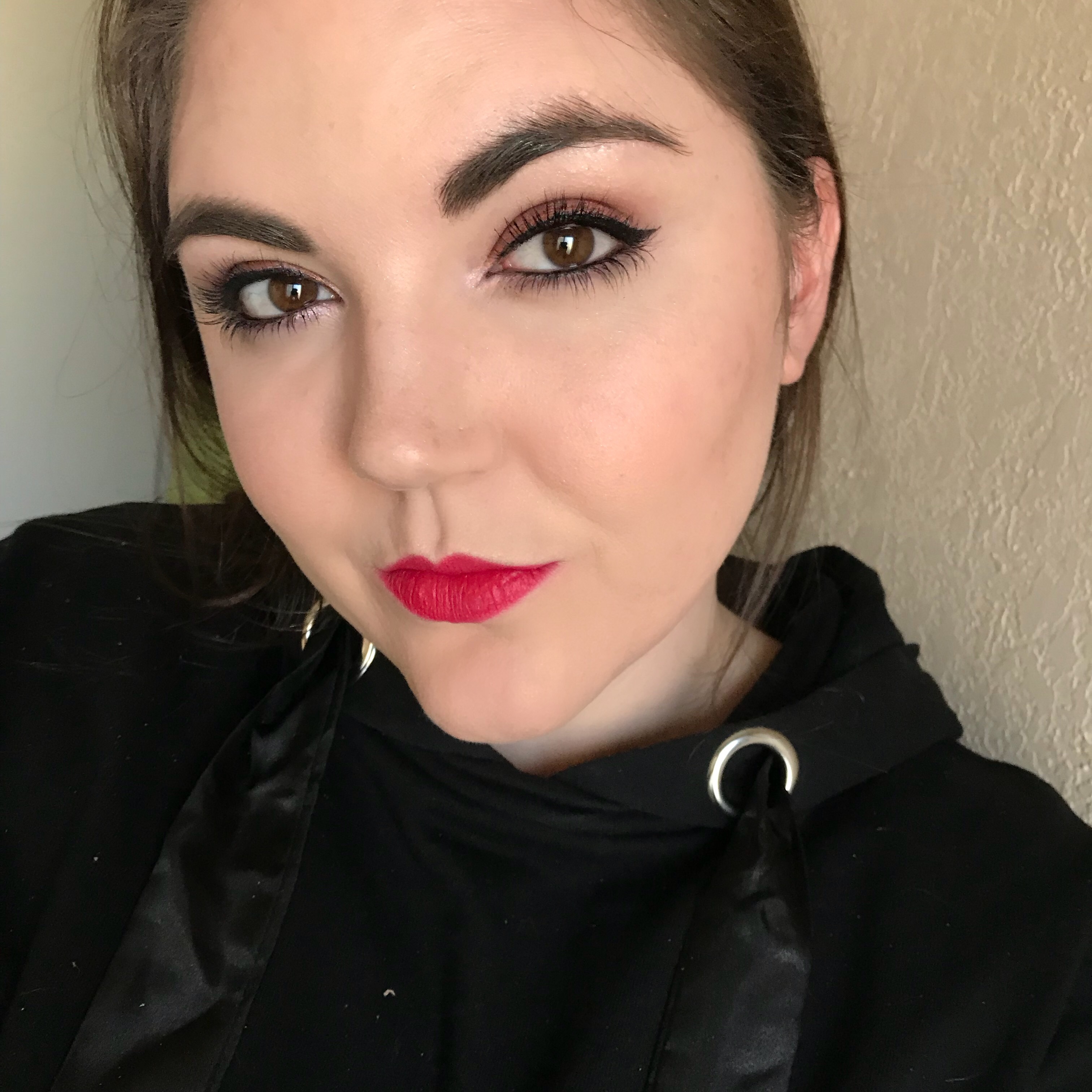 Did I like every product in this month's Boxycharm? Sadly no. I will use the remaining lip patches but would never repurchase. The brushes will probably end up at the bottom of the drawer and I only see using the lippie for pictures. However, the products I did like made it well worth the $21. I will definitely continue to use the eyeshadow palette and I am super into the Cover FX setting spray.
What about you, do you think this month's Boxycharm was worth it? Let me know!
Xoxo Sammie