Purple has been my favorite color for as long as I can remember. I actually picked the high school I transferred to when I moved freshman year because one of their colors was purple… the mind of a 15 year old, right? I even ended up pledging a sorority where one of their colors was lavender (no I didn't pick them because of the color, promise). Ever since ultraviolet was announced as the Pantone color of the year, I have been obsessed with the idea of purple makeup. With spring fast approaching, the thing that kept coming to mind was the perfect lavender lip.
I was already feeling inspired when ultraviolet was unveiled, but seeing Hailie Barber rock a lavender lip sealed my fate. That was when my search began for the perfect purple lip began. I tried four different formulas and I have to say, it isn't the easiest color to find.
What to see more from Hailie? Check her out on Instagram, YouTube, Twitter, Vero and she has a blog too!
The first lippie I tried was the Maybelline SuperStay Matte Ink in Philosopher ($9).  This particular formula can be picked up at most drugstores and Ulta.
When I first applied the formula, it went on really smooth and was very opaque. The applicator made it perfect for getting a clean line so no lip liner is necessary. The product also has a really yummy scent. It took about 10 minutes to dry down completely and still felt a little tacky, yet transfer proof. After three hours of wear, it was still comfortable but the inner rim had worn off. I was able to touch up without an issue. I wore this for a total of six hours. It remained comfortable, but there were tiny patches missing at the end of the day. However, this formula is super budge proof! It would be perfect if you like to layer a gloss on top of your liquid lips.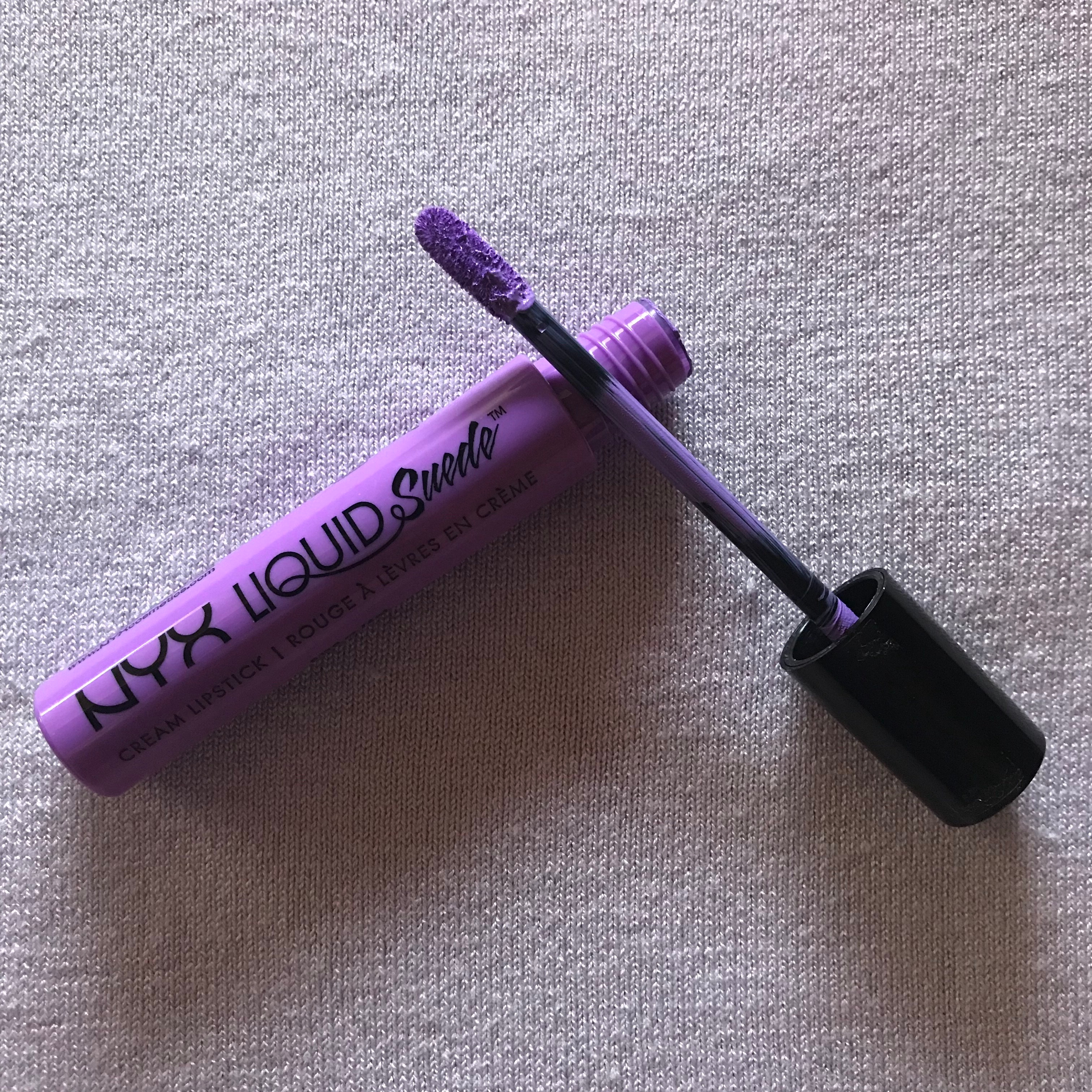 One super affordable brand that can be found online, at the drugstore and in Ulta is NYX Cosmetics. They have so many different products at such as great price. While searching for the perfect purple lip, I picked up the NYX Liquid Suede in Sway ($7).
I was so excited when I found this color, that I picked up the matching lip liner as well. When first applying, it went on okay but seemed a little patchy. I also really disliked the paddle-like applicator and the lip liner was definitely needed. I let it dry for about 10 minutes, but it stayed slightly tacky and there was light transfer. About 2 hours in, I noticed that it would kind of ball up in the corners of my mouth. Despite that, it seemed to stay in place okay until I ate a salad. At that point, it looked terrible and it was definitely time to reapply. Overall, it was okay. Though I disliked how it gathered in the corners of my mouth and it seemed to change a lighter color as I wore it. It also made my lips look really dry.
If you haven't heard of Colourpop, they have some of the best prices out there while still offering quality products. They recently released a new line of bullet lipsticks and the packaging is stunning! They released 24 different colors and I was elated to see a lavender included. I quickly grabbed the Colourpop Lux Lipstick in Cheetah ($7).
This lipstick differs from the previous two because it is a traditional formula, meaning it will transfer and wear off quicker. It started off applying so smoothly and was surprisingly pigmented. It was so comfortable to wear and felt very hydrating. Honestly, I feel it made my lips looks so plump and pretty. That being said, there really is no wear power. It will transfer and fade as you eat and drink. If you are just talking though, it seems to stay in place nicely.
Finally, the product that started this entire journey: Smashbox Always On Matte Liquid Lip in Purple Taffy ($24). While you can find this formula at both Ulta and Sephora, this particular color is exclusive to Ulta. In this formula, there are 44 shades ranging from matte to metallic.
This formula applied so easily! It was smooth, even pigmented plus it has the applicator that makes it easy to get a clean lip line. It did dry down matte and was completely transfer proof. After about three hours, it was still so comfortable and I noticed that there was no bleeding or patches missing. It did wear off on the inner lip a little but was easy to reapply. After a total of six hours, it was incredibly comfortable and I felt like I wasn't wearing anything on my lips. It did wear off on the inner lip again, so it seems that would have to be touched up every three hours or so.
When it comes down to it, I really enjoyed three of the four formulas. My favorites have to be Colourpop, Maybelline and Smashbox. The Colourpop Lux Lipstick is perfect for someone who wants something more hydrating and doesn't mind reapplying throughout the day. The Maybelline SuperStay Matte Ink would be fantastic if you need something that is budge proof for hours and can hold up to being layered with a gloss or chapstick. The Smashbox Always On Liquid Lip is a great middle between the other two. I really love this one if you want something that is comfortable, stays all day and you do not mind pay double or triple the price of the other two.
Personally, I really love layering the Colourpop Lux Lipstick in Cheetah with the NYX Suede Lip Liner in Sway. This combo helps to give the lips more definition since the color is so light while being comfortable to wear. Though, if I was ever going to need a budge proof lippie to wear for the day I would choose Smashbox Always On in Purple Taffy.
I just wanted to include this little bonus section, how to wear lavender lipstick. Originally, although I loved the thought of it, I was a little scared I would look crazy. However, the more I wore it the more comfortable I felt. Heck, even my mom began to really like it and she hates when I wear crazy lips colors. In the end, I have found tat  lavender lipstick is really fun. It makes me feel happy, confident and adventurous. Here are a few eye looks I like to pair with lavender lips.
What do you think of Ultraviolet as Pantone color of the year? Do you see yourself rocking a purple lip?